Arduino, Rasperry PI, Reed Switches, LEDs & more
The Hardware consists of the board plus the various bits of electronics, buttons etc. You can see a video of the hardware components here.
The Board
I needed a board that was thin enough to allow the magnets to activate the reed switch.
My experiments showed me that an 8mm board worked well with 1cm diameter magnets. However all the good quality chess boards I found were at least 15mm thick. so I decided to build my own using 50mm strips of veneer on 8mm MDF board see Building the Chess Board. This worked well.
The Pieces.
I used a standard set of Staunton pieces and simply glued 10mm x 1mm Neodymium magnets to the base: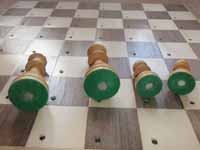 The Electronics:
The parts list was:
Arduino Uno to control the board. I chose the Uno because it is easily available in the UK. The Teensy 2++ would have been a better choise as it has more pins and more memory
Raspberry Pi
64 5mm green leds
MAX7219CNG LED display driver. A brilliant little device that makes controling the LEDS very easy.
64 Reed switchs
Centipede Shield  add-on PCB for Arduino . It uses the Wire I2C interface on analog pins 4 and 5 to provide 64 general purpose I/O pins which I used to directly address each reed switch.
LCD Display: basic 20 character by 4 line display. Utilizes the extremely common HD44780 parallel interface chipset
Four buttons for chosing options etc
Piezo buzzer
64 10mm x 1mm Neodymium magnets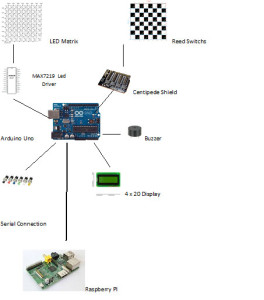 Click here for a higher quality image